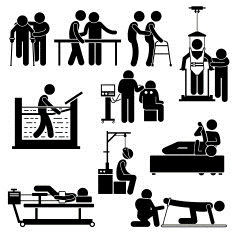 Rehabilitation is a universal and vital component of healthcare globally. This is of particular importance in low- and middle-income countries where disability rates are higher (1). In Africa, the burden of communicable and non-communicable diseases is high, predisposing many people to complications and long-term disabilities (2). and the need for rehabilitation interventions in the region (3,4). However, rehabilitation services and the evidence informing rehabilitation interventions in Africa are limited (3). There is a lack of emphasis on rehabilitation research in Africa. In this blog, we will discuss the importance of developing rehabilitation evidence in Africa.
Rehabilitation is the process of restoring or improving a person's physical, cognitive, and social function after an illness (e.g., stroke, HIV-AIDS, respiratory infections), injury (e.g. motor vehicle injuries, sport injuries), or disability (complications of diseases or injuries necessitating long-term care) (5). The goal of rehabilitation is to enable people to participate in their communities and lead a meaningful life. Rehabilitation is a complex and multidisciplinary field that includes physiotherapy, occupational therapy, speech therapy, and other specialties. Rehabilitation services are essential for people with disabilities, chronic diseases, and injuries (3).
Africa has a high burden of communicable and non-communicable diseases, such as HIV/AIDS, malaria, tuberculosis, diabetes, and cardiovascular diseases (6). These diseases often result in disability, and people with disabilities face significant barriers to accessing rehabilitation services (3). The World Health Organization (WHO) estimates that 15% of the world's population has a disability, and 80% of those live in low- and middle-income countries (5).
Despite the high burden of disability in Africa, rehabilitation services are often inadequate or non-existent (7,8). The lack of rehabilitation services is due to several factors, including a shortage of trained rehabilitation professionals, limited resources, and a lack of political will (7). Furthermore, the evidence on the effectiveness of rehabilitation interventions in African settings is limited presenting a public health and human rights challenge (9). A cost-effective, efficient approach is required to address this by generating contextually relevant interventions and evidence that can be used to inform practice. However, this requires considerable investment in innovative capacity-building among rehabilitation professionals and researchers.
The African Rehabilitation Network is an apolitical community of rehabilitation professionals practicing in Africa. The main objectives of the group are to enhance rehabilitation efforts, to strengthen knowledge sharing pathways, to increase capacity of practitioners and researchers, and to advance knowledge to effectively combat the large impairment and disability burden within the region. Members aim to achieve these objectives by:
Facilitating sharing and learning from experiences of rehabilitation professionals within and beyond the continent.
Supporting the assessment and evaluation of rehabilitation needs and capacity in Africa.
Promoting partnership and collaboration on rehabilitation issues within Africa.
Providing opportunities for active dissemination of data and interventions by experts/clinicians on rehabilitation.
Building and strengthening capacity to integrate research evidence into practice.
The African Rehabilitation Network believes that developing rehabilitation evidence in Africa is a crucial component of our work. Firstly, rehabilitation evidence can help to identify the most effective and acceptable rehabilitation interventions for African populations. Evidence-based rehabilitation interventions can improve the quality of care and outcomes for people with disabilities, chronic conditions, and other health conditions. Secondly, rehabilitation evidence can be used to inform health policy and planning. Health policymakers can use rehabilitation evidence to make stronger arguments and advocate for increased funding for rehabilitation services and to develop guidelines for the provision of rehabilitation services. Finally, rehabilitation evidence can be used to build the capacity of rehabilitation professionals in Africa. Evidence is needed to drive both clinical practice and work force advancement considering the various challenges in the African context.
Despite the importance of developing rehabilitation evidence and a robust rehabilitation workforce in Africa, there are several challenges to making this a reality. These challenges include the lack of funding for rehabilitation research in Africa. Most research funding is directed towards infectious diseases, and rehabilitation research is often overlooked. Secondly, there is a shortage of trained researchers with a focus on rehabilitation in Africa. Most rehabilitation research is conducted by researchers from high-income countries, and there is a need to build the capacity of African rehabilitation researchers. Finally, there is a lack of research infrastructure in Africa, including research facilities and ethical review committees across many African countries.
To conclude, developing rehabilitation evidence in Africa is crucial for improving the quality of care and outcomes for people with disabilities and the Africa Rehabilitation Network is beginning to address this need in a very gradual way. Rehabilitation evidence can inform health policy, planning and can build the capacity of rehabilitation professionals in Africa. Despite existing challenges to developing rehabilitation evidence in Africa, the evidence is necessary for making a stronger argument and influencing policy. Until then, rehabilitation practice will remain optional with no evidence to drive it and rehabilitation professionals in Africa will not achieve their potential. Addressing these challenges requires a concerted effort from policymakers, researchers, and stakeholders in the rehabilitation field.
References
1. Banks LM, Kuper H, Polack S. Poverty and disability in low- and middle-income countries: A systematic review. van Wouwe JP, editor. PLoS ONE. 2017 Dec 21;12(12):e0189996.
2. Bigna JJ, Noubiap JJ. The rising burden of non-communicable diseases in sub-Saharan Africa. The Lancet Global Health. 2019 Oct;7(10):e1295–6.
3. Geberemichael SG, Tannor AY, Asegahegn TB, Christian AB, Vergara-Diaz G, Haig AJ. Rehabilitation in Africa. Physical Medicine and Rehabilitation Clinics of North America. 2019 Nov;30(4):757–68.
4. Cannata G, Douryang M, Ljoka C, Giordani L, Monticone M, Foti C. The Burden of Disability in Africa and Cameroon: A Call for Optimizing the Education in Physical and Rehabilitation Medicine. Front Rehabilit Sci. 2022 May 19;3:873362.
5. World Report on Disability [Internet]. [cited 2023 Mar 11]. Available from: https://www.who.int/teams/noncommunicable-diseases/sensory-functions-disability-and-rehabilitation/world-report-on-disability
6. Li Z, Shi J, Li N, Wang M, Jin Y, Zheng Z jie. Temporal trends in the burden of non-communicable diseases in countries with the highest malaria burden, 1990–2019: Evaluating the double burden of non-communicable and communicable diseases in epidemiological transition. Global Health. 2022 Oct 23;18(1):90.
7. Mji G, Chappell P, Statham S, Mlenzana N, Goliath C, DeWet C, et al. Understanding the current discourse of rehabilitation: With reference to disability models and rehabilitation policies for evaluation research in the South African Setting. South African Journal of Physiotherapy. 2013 Dec 12;69(2):4–9.
8. Louw QA, Conradie T, Xuma-Soyizwapi N, Davis-Ferguson M, White J, Stols M, et al. Rehabilitation Capacity in South Africa—A Situational Analysis. International Journal of Environmental Research and Public Health [Internet]. 2023 Feb [cited 2023 Mar 11];20(4). Available from: https://www.ncbi.nlm.nih.gov/pmc/articles/PMC9961618/
9. Louw Q, Grimmer K, Dizon JM, Machingaidze S, Parker H, Ernstzen D. Building capacity in primary care rehabilitation clinical practice guidelines: a South African initiative. Health Research Policy and Systems. 2018 Sep 29;16(1):96.
About the author: Etienne Ngeh is a trained Cameroonian Physiotherapist and Cardiac Rehabilitation Specialist based in Cameroon. He holds a Bachelor of Science in Physiotherapy and a Master's of Science in Cardiovascular Health and Rehabilitation from the University of Chester, England. He is the Head of Physiotherapy Department St. Louis University Bamenda, Cameroon, and leads the Physiotherapy service of the Regional Hospital Bamenda. He is the founder and promoter of the Research Organization for Health Education and Rehabilitation-Cameroon (ROHER-CAM). He is the current Chair of the Guideline-International-Network (GIN) African Regional Community. He is also one of the founders and coordinators of African Rehabilitation Network, a community of practice with Physiotherapists, Occupational Therapists, Speech and Language Therapists, Community Based Rehabilitation Workers among others practicing in the region.
Disclaimer: The views expressed in published blog posts, as well as any errors or omissions, are the sole responsibility of the author/s and do not represent the views of the Africa Evidence Network, its secretariat, advisory or reference groups, or its funders; nor does it imply endorsement by the afore-mentioned parties.